Outlook 2003
How to set up Outlook 2003 to work with weblaunch mail servers
In Microsoft Outlook, from the E-mail Accounts menu, select Tools.

On the E-mail Accounts wizard window, select Add a new e-mail account, and then click Next.

For your server type, select POP3 or IMAP, and then click Next.

On the Internet E-mail Settings (POP3/IMAP) window, enter your information as follows:
Your Name

Your first and last name.

E-mail Address

Your email address.

User Name

Your email address, again.

Password

Your email account password.

Incoming mail server (POP3)

pop3.weblaunch.co.uk

Outgoing mail server (SMTP)

smtp.weblaunch.co.uk
Click More Settings.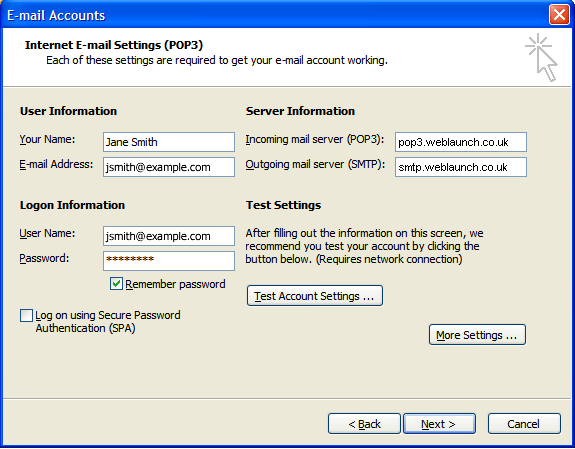 On the Internet E-mail Settings window, go to the Outgoing Server tab.
Select My outgoing server (SMTP) requires authentication.
Select Use same settings as my incoming mail server.
Click OK.
Click Next.

Please be aware that some installations of Outlook will not connect to our server using the standard SMTP port 25. If you are unable to connect please try changing to port 465 under the More settings section.
Click Finish.

NOTE: As a courtesy, we provide information about how to use certain third-party products, but we do not endorse or directly support third-party products and we are not responsible for the functions or reliability of such products. Outlook 2003® is a registered trademark of Microsoft Corporation in the United States and/or other countries. All rights reserved.
Latest News
25th May 2018
We're pleased to announce that Weblaunch is fully GDPR compliant, and most weblaunch customers need… more...
27th March 2018
We're pleased to announce another upgrade to our testimonials.We've added testimonial headings and… more...
9th February 2018
After listening to feedback from our customers we've made some updates to our system to make it… more...